Holiday Tea Sampler: Reserve Selection
Regular price
$159.00 USD
Regular price
Sale price
$159.00 USD
Unit price
per
Gift the ultimate tea sampler to any tea connoisseur in your life! 🎁
Share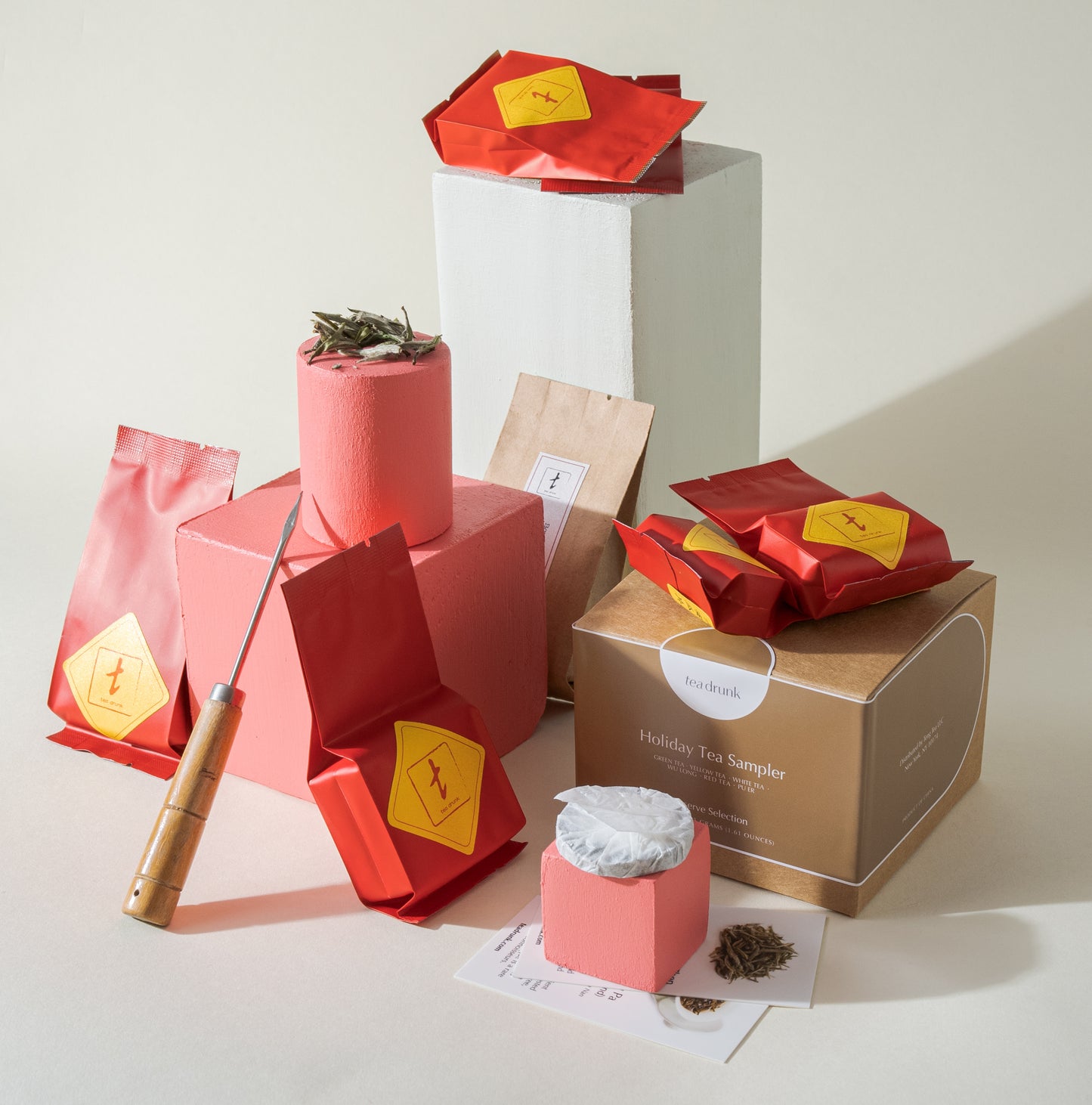 100% Handmade Gua Pian: Ultimately balanced with umami and nuttiness with a buttery texture, this heirloom tea sets a new high bar for the future of green tea!

100% Handmade Huang Ya: Umami with balanced notes of sweet nuts and bouquets. Yellow tea is micro-fermented and has a profile similar to green tea but is rounder, smoother, and warmer.

Wild Bai Hao Yin Zhen (Silver Needle): A sun-dried, handmade, bud-only white tea from wild tea trees in the most sought-after terroir of Dian Tou, Fu Ding. This tea is bright and tender, like sun-soaked cotton and the sweetest spring water.

Rou Gui: Bold, dominating, and spicy, this award-winning Yan Cha embodies the classic masculinity one seeks from this cultivar. The prized Zheng Yan (true cliff) terroir grants this tea a long clean finish with well-defined minerality.

Ji Long Kan: A sophisticated and ancient cultivar for Dan Cong, this batch of Ji Long Kan starts with sweet notes of caramel and mandarin orange, then transforms into candied ginger. Its layered complexity is delivered with elegance.

Da Chi Gan: Red tea is naturally sweet and fully fermented using the tea's own enzymes. Harvested from 100- year-old heirloom trees in the protected nature reserve of Tong Mu, this batch of Da Chi Gan transports us to a cozy cabin on a crisp and sunny winter morning.

Ban Po Lao Zhai: A weighty, full-bodied Pu Er tea from the most sought-after village of Nan Nuo Shan. Tannic, umami, and floral, this is a handmade tea using leaves from ancient tea trees that are 200-600 years old.

Shou Pu: Shou Pu is a microbial-fermented Pu Er that tastes like sweet earth and woods with a full, smooth body. This tea is made with an innovative method that increases the Lovastatin content, enhancing the health benefits.
Brewing Methods
Brewing Instructions

Each category of tea has it's own brew temperatures, recommended tea to water ratios, and steep times. We recommend checking out the individual tea page for more details on each!

Learn How To Gong Fu Brew

This foundational course is a great resource to help you understand the methods and motions of Gong Fu Brewing.